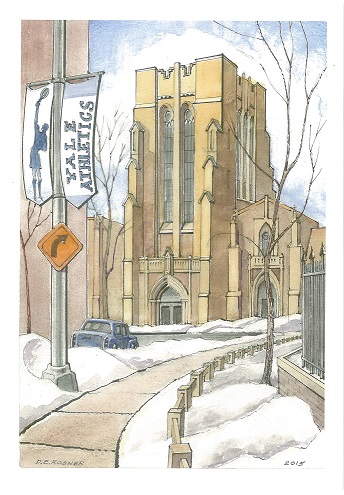 Twenty watercolor paintings of Daniel E. Rosner's will be on display at the New Haven Lawn Club between May 10 and July 11. The works will be exhibited alongside photographs of Penrhyn Cook, a Bridgeport-based photographer.
Daniel Rosner, Professor Emeritus of Chemical Engineering, is a realist artist who recently focused on a number of Yale University's most notable architectural treasures during phased retirement. Initially motivated to provide a personalized memento to each of his twenty-three former Ph.D. students (reproductions of his "portrait" of Mason Lab), Professor Rosner sensed a broader interest in fresh views of several iconic Yale University buildings, including the Payne Whitney Gym. The exhibit also includes dramatic views of Christ Church New Haven and two scenes from Professor Rosner's interdisciplinary past—a watercolor of Princeton Junction station and the High School of Music & Art in New York. Professor Rosner is a member of the New Haven Paint & Clay Club and has previously exhibited in Yale's Morse College, the Henry Koerner Center, and the local public libraries of Woodbridge, Orange, and Hamden.
Professor Rosner was a former chairman of the Yale Department of Chemical Engineering. He is founder and director of the Yale High Temperature Chemical Reaction Engineering Laboratory (HTCRE) and is an engineering consultant to many corporations and consortia, which have included ALCOA, Babcock & Wilcox, Bristol-Myers/Squibb, Columbian Chemicals, DuPont, EPRI, EXXON, GE, Guardian Industries, Dresser-Rand, IFPRI, Pfaudler, Praxair, RERI, SCM-Chemicals, and Union Carbide. His research activities include convective energy and species transport, fine particle technology, and combustion—subjects on which he has published over 250 papers and an award-winning book entitled Transport Processes in Chemically Reacting Flow Systems. Professor Rosner joined the engineering faculty at Yale in 1969 after eleven years of industrial research experience and after having completed his undergraduate degree at CCNY and a Ph.D. at Princeton University as a Guggenheim Fellow. For his cumulative research contributions in the area of particle-in-gas suspensions, Professor Rosner was named winner of the 1999 David Sinclair Award of the American Association Aerosol Research and the 2011 AIChE/DuPont Particle Technology Award. He received an honorary doctorate of science in 2002 from UNED in Madrid and is a member of the Connecticut Academy of Science and Engineering. Professor Rosner is currently a research professor in the Department of Chemical & Environmental Engineering at Yale.
The exhibition will be on display at the New Haven Lawn Club at 193 Whitney Avenue from May 10 to July 11 (lower rotunda, adjacent terraces, and Grill Room) between 9:00 a.m. and 5:00 p.m. An artist's reception will be held Tuesday, May 17 between 5:00 p.m. and 7:00 p.m.