Image: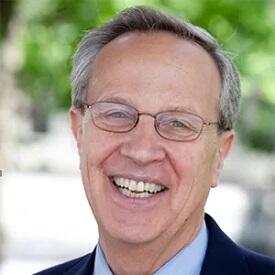 Event time:
Monday, May 2, 2022 - 4:00pm
Location:
Hybrid Event
149 Elm Street
New Haven
,
CT
06520
Event description:
On May 2 the Intellectual Trajectories series will feature a person known to virtually all emeriti though not always thought of as a faculty member. But before Rick Levin ever dreamed that he would be president of Yale University, he rose through the ranks as a professor of economics, and he was a faculty colleague for decades before he held an administrative role. On May 2 we'll learn his account of how he came to his academic career and how that career evolved. I hope you will join us—Best wishes, Dick Brodhead
---
Richard (Rick) Levin and his wife Jane came to Yale as graduate students in 1970, after undergraduate study at Stanford and two years at Oxford. Except for a brief "time out" for work in California following Rick's presidency, they have remained here, in the East Rock neighborhood, ever since. 
After completing a Ph.D. in economics in 1974, Rick joined the faculty and progressed through the ranks, becoming full professor in 1982, department chair in 1987, dean of the Graduate School in 1992, and president in 1993. During his twenty-year tenure, Yale's campus was rebuilt and its footprint expanded by nearly 50 percent. He created the New Haven Homebuyer Program, worked with the city to redevelop the downtown, and launched New Haven Promise, which provides substantial college scholarships to any graduate of a New Haven public school with a B average. Working with local and national leadership of Locals 34 and 35, he transformed labor relations at Yale from perpetual warfare to a stable partnership. He oversaw major investments in the sciences and engineering, clinical medicine, and the arts, and he encouraged internationalization of the university's research agenda, curriculum, and co-curricular opportunities while quintupling the representation of international students enrolled in Yale College. Yale became the first U.S. university to fund the full need of all admitted undergraduates from abroad, and the first to provide full funding for all admitted Ph.D. students.
After completing twenty years as university president—one of the longest tenures in Yale history—he stepped down and served for three years as the CEO of Coursera, the world's largest platform for online university courses.
Event Type:
Intellectual Trajectories