Image: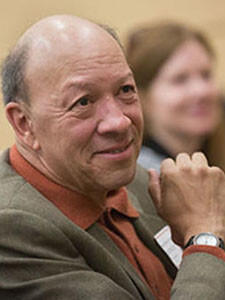 Event time:
Monday, February 7, 2022 - 4:00pm
Location:
Hybrid Event
149 Elm Street
New Haven
,
CT
06520
Event description:
Robert Stepto is the John M. Schiff Professor Emeritus of English at Yale. He has been a member of the Yale faculty in English, African American Studies, and American Studies since 1974. His principal fields are American and African American autobiography, fiction, poetry, and visual arts since 1840. His publications include A Home Elsewhere: Reading African American Classics in the Age of Obama, Blue as the Lake: A Personal Geography, and From Behind the Veil: A Study of Afro-American Narrative. His editing projects include (with Jennifer Greeson) the Norton Critical Edition of Charles Chesnutt's Conjure Stories, (with Michael Harper) Chant of Saints: Afro-American Literature, Art, and Scholarship, (with Dexter Fisher) Afro-American Literature: The Reconstruction of Instruction, and (with Donald McQuade, Robert Atwan, Martha Banta, Justin Kaplan, and David Minter) The Harper American Literature anthologies. He has been an editorial board member at American Literature, American Quarterly, and Callaloo, and serves on the national council of The American Writers Museum. For thirty-two summers, he has taught at the Bread Loaf School of English, where he has been the Robert Frost Professor of English and an interim director of the School. Among his recent honors are invitations to deliver W.E.B. Du Bois Lectures at Harvard, an Abernathy Lecture (Middlebury College), and a Peters Rushton Lecture (University of Virginia). At Yale, he has contributed to the conferences on "Middle Passage, John Brown, African American History and Memory," and "Embodied: Black Identities in American Art." In the Department of African American Studies at Yale, he has served as chair (2005–2008), an early DUS (1974–77), and the first DGS (1978–81). In 2015, he was honored at Yale's festschrift conference "Bringing Unknown Patterns into View: The Critical Vision of Robert B. Stepto," celebrating his retirement and forty years at Yale.
---
Please note that the university requires faculty to obtain a COVID-19 vaccination or a university-approved exemption and to document their vaccinated status in the university's records in the COVID-19 Health and Safety Database. In addition, the university requires all faculty to have obtained a booster shot by January 31, 2022, or within seven days of eligibility if they are not eligible by January 31, 2022. If you are unvaccinated, you must maintain a six-foot distance from others at all times. For further information on Yale's safe campus practices, click here.
Event Type:
Intellectual Trajectories