Ann Ameling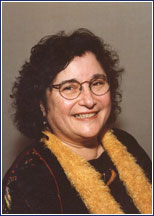 Biography:
Ann Ameling is professor of Psychiatric-Mental Health at the Yale University School of Nursing. Her current work focuses on development of curriculum and associated research programs in spirituality, healing, and health care. Currently she is director of an interdisciplinary program at Yale funded jointly by the Teagle Foundation and the John Templeton Foundation to develop interdisciplinary courses in spirituality and end of life care. The courses, which are open to medical students, advanced practice nursing students and divinity students focus on the spiritual aspects of patients' experiences, as well as issues of pain, suffering, and palliative care. She has developed a course in alternative and complementary therapies, which focuses on symptom relief and the scientific knowledge base of such therapies. Along with Rev. Margaret Lewis and others, she designed a course, Living With Dying, which was first offered to graduate students in 1999-2000, and she has provided reiki training at Yale School of Nursing for the last three years. She is a breast cancer survivor who has participated in many programs of spirituality and healing.
Returning to full time teaching after more than a decade in Yale University central administration, including seven years as associate provost, Professor Ameling spent the last several years in curriculum development, which includes alternative and complementary therapies as part of the spirituality and health curriculum. Believing that it is important to examine the spiritual roots of many alternative and complementary therapies, she has taught courses and given professional presentations and workshops on prayer, meditation and reiki, among other topics. She studied Centering Prayer under the direction of Father Thomas Keating, a Trappist monk at St. Benedict's Abbey in Colorado, is an oblate of a Roman Catholic cloistered order of monks, and is affiliated with The New Camoldese Hermitage in California. She also trained with Rev. Lauren Artress and, in doing so, became a certified labyrinth facilitator as part of Veriditas at Grace Cathedral in San Francisco. She participated in a special international spirituality program at Chartres Cathedral in France in 1999, and recently published several articles on prayer and reiki.
Previously, Professor Ameling worked extensively in the area of chronic psychiatric illness and was principal investigator on a USPHS funded grant on nursing with chronically ill psychiatric outpatients between 1970 and 1975. This was one of the first funded research projects evaluating the efficacy of psychiatric nursing interventions with a chronically ill psychiatric outpatient population. Between 1976 and 1984, she was involved in continuing research with this population and received grants supported by the American Nurses' Foundation and Sigma Theta Tau, Delta Mu Chapter. Her 1982 book with Judith Krauss, The Chronically Ill Psychiatric Outpatient in the Community, was named The American Journal of Nursing Book of the Year and served for many years as the standard nursing reference on the subject.