J. Michael McBride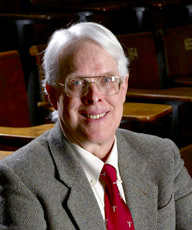 Biography:
Michael McBride grew up in Lima, Ohio when science was so popular that TV antacid commercials featured hucksters in white lab coats and safety glasses pouring "concentrated stomach acid" over white handkerchiefs, and the nation's youth built rockets in their basements to catch up with Sputnik, a remote dot drifting across the night sky above the county fair. By the time he was a college senior, inspired by chemistry teachers at the College of Wooster and Harvard College, he had decided on a career in chemistry rather than medicine. After doctoral work in physical-organic chemistry at Harvard, he came to Yale, where he taught and carried on research in chemistry for 48 years before retiring as Colgate Professor Emeritus in 2012. He taught organic chemistry to the top sixth of Yale's freshman chemistry students in 55 of his 77 teaching semesters. Over the years the focus of this course shifted to two Big Questions: "How do you know?" and "Compared to what?" This series of 75 lectures is now available at Open Yale Courses.
His research focused initially on reactions within molecular crystals and later on growth and dissolution of crystals. In each case his group used the tools of physical chemistry to map mechanisms of the processes in unprecedented detail.  Both his teaching and his research were informed by his study of the history of chemistry in the 18th and 19th Centuries.  In addition to international awards for research achievement, he has received local and national awards for teaching at both the undergraduate and graduate levels. His reluctance to say "No" resulted, among others, in chairing committees that evaluated Yale's science teaching, that launched the Perspectives in Science program for talented freshmen, and that dispensed justice to undergraduates.  
Further details on his life, research, and teaching are available in a biography at Crystal Growth & Design.