Keith Wrightson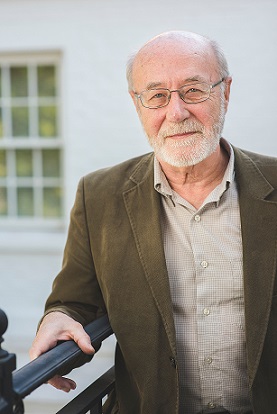 Biography:
Keith Wrightson is an historian of 'early modern' England (c.1450-1750), specializing in social, economic and cultural history. He was educated in Newcastle upon Tyne, England, and at the University of Cambridge, where he received his BA (1970), and PhD (1974).  He has taught at the University of St Andrews, at Cambridge (where he was Professor of Social History), and since 1999 at Yale.  He has held Visiting Professorships at the Universities of Toronto, Alberta, Northumbria, and Newcastle upon Tyne, and served as James Ford Special Lecturer at Oxford (1993) and as the British Academy's Raleigh Lecturer in History (2005). He is a Fellow of the British Academy (1996) and of the Royal Historical Society (1986), an Honorary Fellow of Jesus College, Cambridge (2008), and an Honorary Professor of the University of Durham (2008). He was awarded Honorary D.Litt degrees by the Universities of Durham (2011) and Newcastle (2013). He was President of the North American Conference on British Studies 2013-15.  A volume of essays in his honour by former students, Remaking English Society: Social Relations and Social Change in Early Modern England was published in 2013.
Prof. Wrightson's innovative survey English Society, 1580-1680 has been in continuous print since 1982.  His work with David Levine on the Essex village of Terling, Poverty and Piety in an English Village (1979) introduced to English social history the 'microhistorical' approach which had previously been adopted mostly by historians of Continental Europe.  His collaboration with David Levine produced a further seminal book on the coal-mining parish of Whickham, The Making of an Industrial Society (1991).  Wrightson's survey of British economic history, Earthly Necessities: Economic Lives in Early Modern Britain (2000) was awarded the John Ben Snow Prize of the North American Conference on British Studies (2001), and is currently being translated into Chinese.  His Ralph Tailor's Summer (2011) charts the history of a plague outbreak in 1636 from the perspective of a young scrivener who wrote the wills of plague victims. It was short-listed for the Portico Prize in Literature (2012). He is a member of the editorial advisory boards of Histoire Sociale/Social History, The Seventeenth Century, and Rural History, has previously served on the editorial boards of several other journals, and co-edited the Cambridge University Press series Cambridge Studies in Population, Economy and Society in Past Time and Cambridge Social and Cultural Histories.  He recently edited the Cambridge Social History of England, c. 1500-c.1750 (2017).
At Yale, he has served as Director of Undergraduate Studies and as Senior Essay Director for the Department of History, has chaired the Renaissance Studies Program and co-directed the interdisciplinary Center for the Study of Representative Institutions. He serves on the advisory board of the Yale Center for British Art and the Paul Mellon Centre (London).  He regularly offers a survey course on early modern Britain, and seminar courses in social, economic and cultural themes. In 2008, he was awarded Yale's Sidonie Miskimin Clauss Prize for Teaching Excellence in the Humanities.