Kenneth Winkler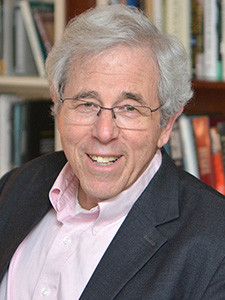 Biography:
Kenneth P. Winkler is the Kingman Brewster, Jr. Professor of Philosophy.  He arrived at Yale in 2006, after 29 years of teaching at Wellesley College, where he was the Class of 1919 Professor of Philosophy.  He has taught at many other institutions, among them Boston University, Brown, MIT, Brandeis, and Harvard.  In 2012 he was the Sir Isaiah Berlin Visiting Professor in the History of Ideas at Oxford.
Ken works mainly on early modern European philosophy, especially in the English-speaking tradition.  He is the author of Berkeley: An Interpretation and of essays on Descartes, Cudworth, Newton, Locke, Shaftesbury, Hutcheson, Hume, Thomas Reid, and Kant.  The themes of those essays include innate ideas; proofs of God's existence; the powers of matter; personal identity; the development of logic; causation and inductive reasoning; moral judgment; skepticism and its limits; and idealism.  His Berlin Lectures at Oxford represented a more recently developed interest in the history of idealism in America, from the early eighteenth century to the middle of the twentieth.  Central figures in that idealist tradition include Jonathan Edwards, Emerson, Thoreau, Josiah Royce, and the "Boston Personalists" (George Holmes Howison, Borden Parker Bowne, Bowne's student Edgar Sheffield Brightman, and Brightman's student Martin Luther King).
At Yale Ken has taught courses in elementary logic, American philosophy, personal identity, causation in modern philosophy (with Michael Della Rocca), early modern philosophy of language (with Zoltan Szabo) and mind in modern philosophy (with graduate student Bridger Ehli), as well as seminars that addressed Hume, Reid, Locke, Berkeley, Leibniz, Kant, and Wittgenstein.  He has also taught often in Directed Studies, in both the fall term (ancient and medieval philosophy) and the spring (modern philosophy, from Descartes to the twentieth century), and has enjoyed co-teaching the graduate program's First-Year Seminar.