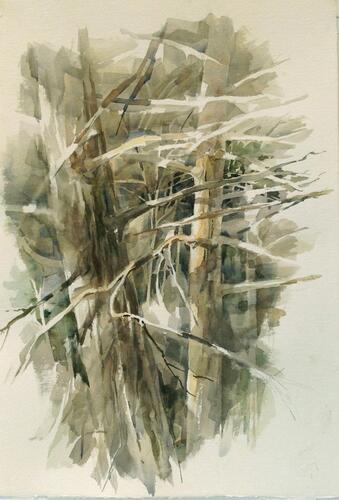 An exhibition featuring watercolors and drawings of Koerner Fellow Alexander Purves will be held at the Blue Mountain Gallery in New York City between November 2 and November 27, 2021. All of the works were created during the last two winters in northwestern Connecticut, where Professor Purves maintains a studio. The subjects of the pictures are the trees surrounding the studio, as well as impressions of the snowy Connecticut landscape. Of his works, he once noted: "My [watercolors and drawings] are made from direct observation. The subjects are drawn from the natural world—not the grand epic view, but rather the modest story found close at hand. These subjects—rocks, brambles, woods—are commonplace, but they are incomparably rich. Taking time to observe closely reveals endless patterns, textures, miniature worlds. It may be that many hours spent as a child transfixed by the tide pools on the rocks in Maine encouraged my fascination with the small and the overlooked."
Alexander Purves received his design training at the Yale University School of Architecture, graduating in 1965 with a Master of Architecture degree. His professional career has been primarily that of an architect and a teacher of design. He has drawn and painted all his life and is now focusing on his career as an artist. Professor Purves has lectured widely and participated as a visiting critic at institutions including Harvard Graduate School of Design, Columbia University, University of Pennsylvania, Carleton University, Rhode Island School of Design, and Ohio State University.  He has also led many Yale Educational Travel programs, study tours that have included Italy, France, and the British Isles as well as Eastern Europe, the Turkish coast, Egypt, and Japan.
For further information on the exhibition, click here.