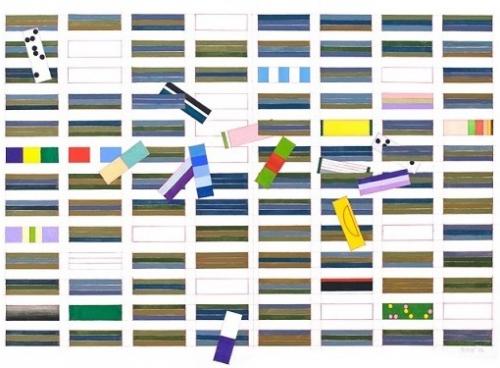 An exhibition featuring art work of Koerner fellow David Pease will be on view at the Henry Koerner Center from October 5 through December 9. The exhibition, titled David Pease: Notes from the Road, displays twenty narrative paintings, all of which convey the back stories to journeys Pease took between 1994 and 2009. Yale faculty member Jessica Helfand, essayist for the exhibition catalogue, writes: "David Pease makes work that is controlled by accuracy, but thrills to the promises of chance. He is principled, but playful, at once focused and far-ranging in his appeal to the unusual reference." She adds that "in [Pease's] paintings, there are magical gestures of illusion and deft sleights of hand. There are nods to history, odes to memory, references to moments of delight … and sadness. There are hints of compositional precision and geographic allusion, gestures of wit and grace notes of whimsy. And throughout it all, there is a deep and abiding determination to tell a story."
David Pease is an artist, teacher, and former arts administrator who studied at the University of Wisconsin–Madison. He taught at Michigan State University, the Tyler School of Art, Temple University, and Yale School of Art. He served as dean of the art schools at both Tyler and Yale and retired from Yale as Street Professor Emeritus of Painting in 2000.
Pease's work has been exhibited in more than 250 exhibitions since 1953 and is represented in the permanent collections of, among others, the Whitney Museum of American Art, Philadelphia Museum of Art, Pennsylvania Academy of the Fine Arts, Yale University Art Gallery, Penn State University, and the RISD Museum. 
The exhibition will be on view through December 9, 2016 at 149 Elm Street, second floor. Visit by invitation or appointment by calling 203-432-8227.